Mattress Size & Price Guide
MATTRESS
SIZE & PRICE GUIDE
Choose the mattress size that's just right for you.
ALREADY HAVE A BED FRAME?
Easy! Match the inner dimensions of your bed frame to the size guide below. It's ok if there's a difference of several cms.
IKEA "Single" bed >>> Skyler "Single (L)" size
IKEA "Double" bed >>> Skyler "Full Double" size
IKEA "150x200cm" bed >>> Skyler "Queen (L)" size
IKEA "180x200cm" bed >>> Skyler "King" size
HAVEN'T CHOSEN A BED SIZE YET?
Choose a common mattress size so you can easily find a matching bed frame. These are the most popular sizes:
Smaller Sizes:
Single (3'0" x 6'0")

Double (4'0" x 6'0")
Larger Sizes:
Full Double (4'6" x 6'3")

Queen (5'0" x 6'3")
The Skyler mattress comes in 13 different sizes.
Choose one of 6 standard widths, then either a shorter or longer size.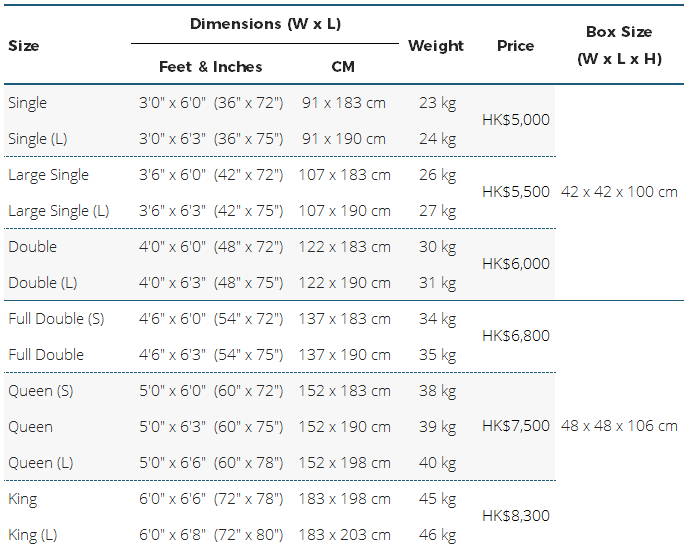 Height of all mattresses : 10" (25 cm)
All mattresses come in a compact box with wheels and handles that fits into any lift, stairway, or bedroom.
*Dimensions and Weights are approximate, with an accepted tolerance of +/- 2cm.
As always, email us at contact@skyler.hk or give us a call at (852) 2877 8668 if you're not sure which size is right for you.